Click Here to Register For December 2011 Holiday & Seasonal/Winter Jam Sessions
REAL MUSICIANS, REAL INSTRUMENTS, REALLY FUN!

More than your average sing-a-long, DC Music & Entertainment's baby and toddler jam sessions are interactive music-making and singing sessions designed for children age 3 months and up. The sessions are led by Pablo Grabiel, owner of DC Music & Entertainment and professional guitar player, with the accompaniment of some of DC's best professional musicians.  Pablo brings a box full of fun percussion and rhythm instruments and leads the group in song, keeping a beat and other fun music-oriented games and skills.
The idea behind the jam sessions is to expose children to music, musical instruments and professional performers at an early age to promote hand-eye coordination, rhythm, group play and cooperation, following directions and — most of all — a love of and appreciation for live music!
It is very important that each child is accompanied by an adult caregiver who is going to actively participate in the session.
CLICK HERE FOR PARENT TESTIMONIALS
FACEBOOK – become a facebook friend of Baby/Toddler Jams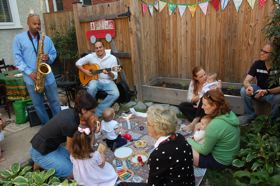 Have a Jam Session at Your Child's Birthday Party or Playgroup!
Pablo and other professional musicians are available to conduct jam sessions for birthday parties and playgroups. Just like our public jam sessions, we bring the instruments and lead the group in song and rhythm. We can take special song requests and serenade the birthday boy or girl.
Entertain the Adults and Kids at the Same Time!
Tired of canned kids' music at your child's birthday party? Hire Pablo or members of his group to lead a jam session for the kids and add a drummer, sax player, upright bass, another guitar or pianist (or a combination thereof) to the mix and you and your guests can enjoy a live jazz ensemble for your party. We can play straight-ahead jazz, latin or jazzy kids tunes.
Email (pablo@grabielismo.com) or call Pablo (202-441-8344) for a quote availability, options and more information.
PHOTO GALLERY
Please click on the thumbnails below to view our Kids Music Photo Gallery.

no images were found