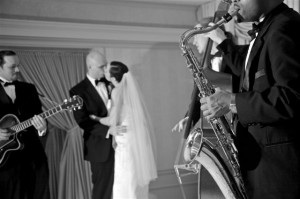 "As an Associate Publisher for Perfect Wedding Guide I have the opportunity to work with and hear talent from many sources. For my wedding day I chose to use Pablo Grabiel and DC Music Entertainment. The talent, professionalism and service exceeded my high expectations and the event ran flawlessly. I recommend them highly!"
Lisa Martel, Associate Publisher – Perfect Wedding Guide
"DC Music Entertainment Delivers ! We strongly recommend Pablo Gabriel, and DC Music Entertainment to anyone planning a special event. First and foremost, the four-piece ensemble, Bemcha, that played for our wedding was outstanding.  Each musician complemented each other, and put his own spin on a mix of timeless jazz classics, modern pop songs, latin jazz, and even a fantastic rendition of Bob Seger's "We Got Tonight."  The arrangements and timing for both the ceremony and the reception were extremely well thought through yet flexible enough to adjust to what the audience seemed to enjoy listening to.  Perhaps more importantly, DC Music Entertainment delivered a polished and professional product on time in the most unusual circumstances. Our wedding occurred during Washington D.C.'s worst blizzard in modern times, yet the musicians arrived at the venue early and ready to play despite the fact that the Washington metro area virtually shut down for an entire weekend.  We were grateful for the effort each musician put forward in this regard. DC Music Entertainment exceeded our expectations in every conceivable way, and for that reason we wholeheartedly recommend Pablo and his entire crew for any wedding or special event.
– Sincerely, Greg & Jodi Louer"
-Bride & Groom
"I was very fortunate to have had DC Music Entertainment and the Bemcha band play music for our wedding ceremony and reception. Pablo and the band were extremely generous with their time — including helping guide us through designing the program of music for the ceremony and in learning our "first dance" song for the reception.  The band was extremely patient and flexible while on-site — including accommodating a last minute reshuffle of the ceremony music. The band even went the extra mile to provide backup music to a Bulgarian song performed by one our my relatives.   I could not be more happy with both the level of service that Pablo provided and the professionalism of the band. I'm pleased to give DC Music Entertainment and the Bemcha band my highest recommendation."
-M. Koparova – Bride
"My husband and I would like to personally offer our gratitude to DC Music Entertainemnt for such a beautifully entertaining performance that we and our guests will treasure for our lifetime! Your strong commanding vocal style, the graceful artistry of the flamenco performer, and the powerful explosion of tunes from the guitarist, reminded my husband and I of the performances that we witnessed while in Madrid, Spain, the country where he asked me to be his wife. If you are planning an event that is trying to capture the hearts of its audience through passionate artistry while creating memories of a lifetime, then please use DC Music Entertainment! They are the innovators in their field!"
-Mrs. Kimberly Caceres, Bride
"As an event designer for R&R catering I have hired and referred Pablo Grabiel and the talent at DC Music Entertainment for many events and always with rave reviews. Recently, I chose DC Music Entertainment to provide a jazz trio for the ceremony and reception for own wedding. I chose DC Music Entertainment amonst the rest because I know that they will deliver quality entertainment and service above and beyond the rest. And they did!"
-Heidi Harrington, R&R Catering Event Designer & Bride
"We called DC Music Entertainment because we knew that they provided customized entertainment based on the needs of their clients. The consultation, service and sincere interest in my event was very manageable and pleasant during a period of otherwise insanely busy and stressful planning. Pablo seemed to know exactly what we needed without our having to articulate exactly what that was (we didn't exactly know what we wanted). It was obvious that while this was our first trip down the aisle, it was not his first wedding! We settled on a guitar duet with Pablo Grabiel and Duff Davis and could not have been happier with the outcome. They learned a tune of our choosing for the procession out and performed it to perfection – what service! It was also very comforting to know that the entertainment they provided was perfectly polished and professional, the duet was punctual and prepared, and the music was pure bliss. – I highly recommend DC Music Entertainment!"
-Patrick Jones, Groom
"DC Music Entertainment is a fantastic company.  Their bands are some of the best bands that we have ever used for our events.  They work with a group of wonderful musicians and Pablo Grabiel is always willing to please his customers.  I would recommend that brides check them out for their weddings.  You will not be disappointed."
-Lana A. Tull – CEO/Chief Consultant – Pure In Heart Weddings & Events, LLc.
"Duff Davis on Guitar and Dylan Stoddard on bass provided two and a half hours of perfectly delightful soft music for our son's wedding dinner, enhancing a festive occasion and creating a more memorable event for the bride and groom, our family, and our guests. We were extremely well pleased and look forward to having them , or others of Pablo's talented group, play for any similar event we may sponsor in the future."
-Mai and Don Carson
-Happy parents of the groom
"Pablo Grabiel and his partner performed at my daughter's engagement party on Sept. 29th. They played for about 3 hours and the party was enormously successful largely due to the atmosphere and ambiance created by their fabulous music. I have no hesitation in recommending their services. They are professional and timely, and they play excellent music. Thank you!"
-Sunita Ramchandani, mother of the Bride
"Pablo was asked to perform In MY LIFE by the Beatles at our wedding in Cabo San Lucas, Mexico. He went above and beyond our expectations with his performance. He not only did a beautiful job singing and playing the guitar, but he translated part of the song into Spanish. It was perfect for the event. We appreciated all that he did to make our wedding special"
-Nicole Lamping, Bride
"Pablo played music at my wedding in London and did an incredible job. He is a talented guitarist and singer and brings something unique to any event where he plays. I highly recommend his music and style."
-Leela Wilson, Bride
"Pablo Grabiel of Grabielismo Productions. Look for his touch on the music culture throughout the Washington D.C. area, and beyond! He's … become a talented and sought-after musician. His most touching gift to me was the performance of music written by my parents which he played at my California wedding on August 17th."
-Mrs. Tammy Glenn Schwartz, Bride
"I was referred to Pablo and his company only a few weeks before my wedding…so at the last minute we needed to scramble. We wanted something simple, soft and classic. Pablo immediately took the task of fulfilling our need. He found us the cellist and violinist very quickly…even helped me make better selections of music -selections other than the "norm", but still tasteful. All of this was accomplished over the phone, email, etc. We never met face-to-face, which at time was becoming very difficult with all of the other things we had going on. The day of the wedding, they were on-time, on-queue, and truly made the ceremony music fantastic. We even received tons of compliments from our guests. We would highly recommend Pablo's services. Thanks!"
-Kathie & Dan Whitmoyer, Bride & Groom